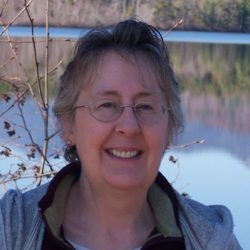 Website: www.betsycraumerart.com
Elizabeth is a landscape artist who enjoys the delightful colors of pastels. Betsy's passion for art began as a teenager when she first discovered the magic of pastel. Later as an art student at the Maryland Institute College of Art in Baltimore, her skills were honed in other media as well, but it was not until her children became teenagers that she once again returned to the medium she so loved as a young woman. Betsy has a M.S. from the University of Northern Illinois in Art Education and is a past president of the Pastel Society of New Hamshire. She works to highlight the wonderful ability of New Englanders to coexist with nature. Marshes, streams, fields, barns and forests are all likely subjects among others. As an artist, she is intrigued with the similarity in the way the sun's rays cast their glow on both man-made objects and elements in the natural world alike. Her work can be found all over NH as well as on the Cape. She enjoys teaching and sharing her painterly and colorful style among others.
Testimonial: "I really like the instruction I get from Betsy Craumer. I only have accolades." . . . . . . LA
The gallery was not found!