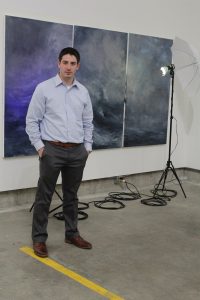 James M. O'Brien (b.1989) is an avid outdoorsman who has spent the majority of his time living among the rural New Hampshire and Hudson Valley scenery. O'Brien was inspired by the British and American romantic landscape painters of the 18th and 19th centuries.
In 2007, he began his studies at the New Hampshire Institute of Art graduating four years later with summa cum laude. O'Brien soon began exhibiting his work across the New England area and taking on commissioned projects across the United States focusing on landscape.
An interest in academic draftsmanship and classical painting led him to briefly join the Ingbretson Atelier in Manchester, New Hampshire, where he studied for two years within the Boston School Tradition. In 2017 O'Brien earned his master's degree in, Visual Arts, from the New Hampshire Institute of Art.
In May of  2018, he was awarded the New Hampshire Institute of Art Distinguished Alumni Award for his work bringing the arts to at-risk youth through the Mayhew Program. In addition, he was recognized for his educational installation piece at the Hooksett Wastewater Treatment Plant. In 2019, he has started several new projects and this June awarded "Best of Show" at a Juried Festival in Hampton Falls, New Hampshire.
James O'Brien currently lives on a large tract of land in Dunbarton, New Hampshire with his wife and daughter exploring the diverse New England landscape and study the native wildlife.